Xerokambos East Crete >> apartments and rooms to rent >> Lassithi Sitia >> Holidays accommodation and Traveling in Xerokampos Crete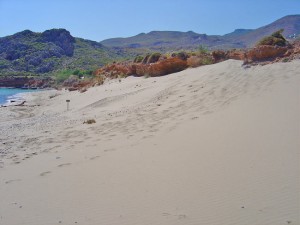 Xerokambos is located 97km east of Agios Nikolaos and 45km southeast of Sitia. The settlement of Xerokambos is one of the most beautiful and impressive areas of the island.
Xerokambos is ideal for relaxing holidays and in a relatively small area you find all types of beaches, as there are beaches with rocks, coarse pebbles, small pebbles, golden sand, white sand, while there is also a beach with clay for lovers of natural spa! You will rarely find more than a handful of people on them. Almost all the beaches are well suited to small children as the sea is fairly shallow.
The visitor will enjoy a rather solitary swimming at the main beach of the settlement and at the nearby small coves to north and south, remote enough, sandy and with crystal clear turquoise sea.
In the village you will find one mini market and several taverns. Pharmacy, butcher and petrol station can be found at Zakros (15 minutes by car), while for withdrawing cash you have to drive up to Ziros village (30 min).
Xerokambos can be accessed primarily through the road connecting the town of Sitia (and Ierapetra) with Ziros, while there is a second choice of asphalt road coming from Zakros. From Ziros, the paved road passes through green plateaus and deserted traditional villages (Etia, Chametoulio). Then the road descends and has spectacular views of the Libyan Sea while it passes close to the rugged Gorge of Lamnoni.
 During your stay you can visit the ancient site of Farmakokefalo , very close to the settlement of Xerokambos, where there are found the ruins of the Hellenistic settlement. If you like nature, you may drive up to the village of Chametoulo (12 kilometers to the west) and then walk down the impressive Gorge of Lamnoni leading to Xerokambos after a two-hours walk.
In Ziros you may also visit the Byzantine churches of the place with the interesting wall paintings and the traditional winery of the village. And, if you like driving in secondary roads within an environment full of vegetable fields and cultivation, you may do the round trip of 50 km to the agricultural villages of Chandras and Armeni, found upon the plateau; the area is also interesting for the ruins of Venetian constructions, as the Villa De Mezzo, beautiful fountains and a tower at the site of Voila.
Besides, you will be able to visit other places close by, like Kato Zakros, a lovely little seaside place with some of the greatest Minoan ruins.